Products Catagories
News & Events
Contact Information
Products
Packaging Coding & Marking Mini Portable Handheld Inkjet Printer

Model: M7
Description:
Packaging Coding & Marking Mini Portable Handheld inkjet Printer
Parameters:

| | |
| --- | --- |
| Product Name | Packaging Coding & Marking Mini Portable Handheld Inkjet Printer |
| Key Words | Date printing machine, Expiry date printing machine, Hand-held ink-jet printer, Inkjet coding machine, ink cartridges, inkjet coding machine, handheld inkjet printer, industrial inkjet printer, high resolution inkjet printer, expiry date printing machine |
| Shape Features | ABS+PC case, red and black, color touch screen |
| Dimension | 140*90*240mm |
| CPU | Quard core 1.4 GHz |
| Definition | 600PDI |
| Spray Nozzle | Thermal foaming inkjet 2.5 |
| Printing Direction | Adjustable with 360 degree, meet all kinds of production needs |
| Printing Line | 1-8 lines (adjustable) |
| Printing Height | 1.2mm-12.7mm |
| Printing Distance | 1-10mm Mechanical Adjustment (the best distance between the nozzle and printed object is 2-5mm) |
| Printing Content | Chinese, English, number, date, time, QR code, bar code, picture |
| Application | Board, carton, stone, pipe, cable, metal, plastic, electronics, automotive parts |
| Printing Length | 2000characters for each message, no limitation on length |
| Printing Speed | 70m/min |
| Ink Type | Quick-dry environmental ink, water-based ink and oily ink |
| Ink Color | black, white, red, blue, yellow, green, invisible |
| Ink Volume | 42ml(usually can print 800,000 characters) |
| Interface | USB, RS232, DB15, Photoelectric interface, Bluetooth 4.0, Wi-Fi |
| Voltage | DC16.8 lithium battery |
| Storage | the system can store more than 1000 mass (external USB make the information transfer in a free way) |
| Working Condition | Temperature:0 - 45 degree; Humidity: 10% - 80% |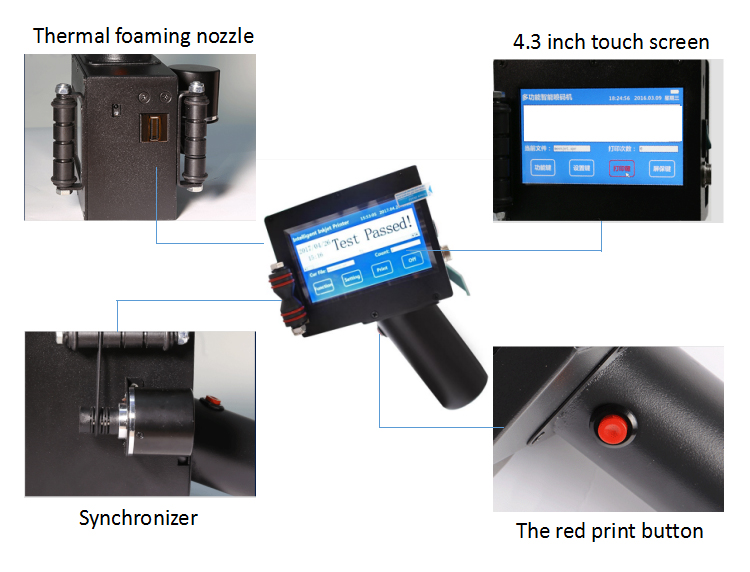 Print Fonts: High Resolution Printing Fonts
Printing symbols:Can print logos & pictures, the length unlimited.
Printing lines: 1 to 15 lines for English, or 1 to 8 lines for Chinese.
Printing character height:from 1mm to 18mm
Automatic Printing:Date, Time, Lot No, Shift No, Serial No. etc.
Message Memory:Could connect the outer devices by USB interface.
Text Length:Max. 200 characters per message
Serial No:1-9 variable sequential numbers.
Spray speed: Maximum speed at 35 meters per minutes, and the increase of the line will not affect the speed
Ink colors:Black, Red, White, Blue
Printing material : can print at the surface of metal, plastic, wood ,Aluminum paper, paper box ,construction material and so on.
Applicable products:
used for package material printed with area code, date, Lot number. Suitable for package label of food, drink, medicine, chemical, cement and other industries. It
can be printed on porous surfaces (such as ordinary cardboard boxes, templates, textiles, etc.) and non-porous surfaces (such as bags, silver mirror, aluminum
mirror, glossy cardboard boxes, etc.)

Ink Cartridge:
Solvent-based or oil-based environmentally friendly ink cartridge. No need to use air source or Pump.
Interface:USB
Machine Weight:3 kg (Including cartridge).
Rated Power :
DC 14.8V Lithium battery could use 8 hours or stand by 20 hours.
Power:Average lower than 15W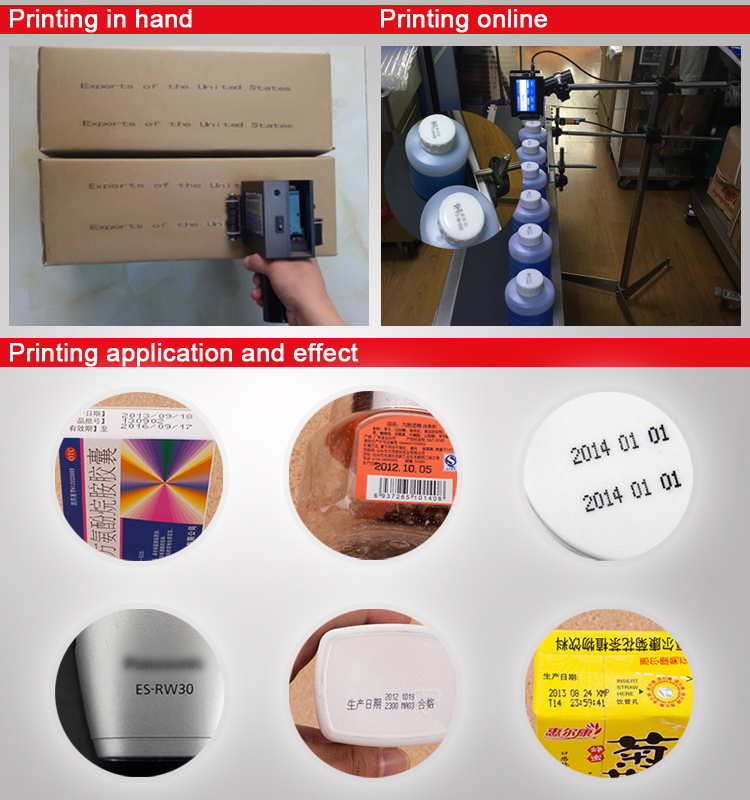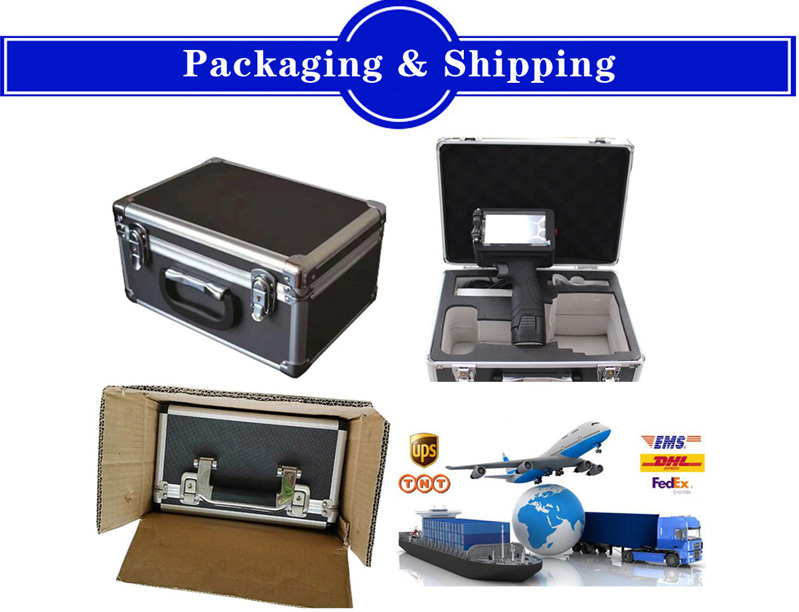 Related Product
Hot Product
Didn't find what you are looking for?
Send your inquiry
.
Packaging Coding & Marking Mini Portable Handheld Inkjet Printer Manufacturer
search on:
Google
,
Yahoo
,
Msn