Products Catagories
News & Events
Contact Information
Products
Mini Pneumatic Mesh Screen Stretching Machine

Model: 300LW
Price: USD600
Description:
Mini Pneumatic Mesh Screen Stretching Machine

Specifications:
Working Air Pressure:0.3-0.6mpa
Specification of the air cylinder:50x70L
Specification of the net clip:300mm

The machine is used to make the stencil,it can stretch the polyester mesh on thescreen frames ,so the machine is a important equipments in making stencil process.

1.Easy pneumatic operation brings even tension
2.Different tension to your needs

Feature
1.Made of hard material made, adjusted automatically and synchronously, and the pulling force is stable and even.
2.The stretching four beams can be moved freely according to the size of the frame, and it is easy to operate.
3.Equipped with four cylinders, ensures the stretching quality.
4.Imported bearing and convenient to operate.
5.One person can operate it easily.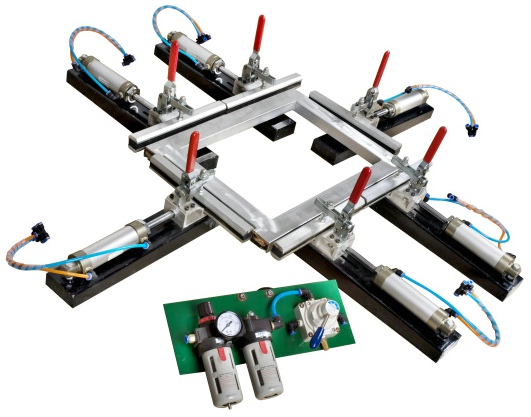 Related Product
Hot Product