Products Catagories
News & Events
Contact Information
Products
Simple UV Exposure Unit Kit

Model: M-SUK
Description:
Technical Parameter
 
Model  No:               M-SUK
Exposure Area:         50x60cm
Glass Size:                37x47x0.8cm
Rubber Subplate Size: 50x60cm
Light Tubes' Powder: 26w /pc
Total Power:             220/110v 50Hz  52w
Vacuum Plate Net Weight: 7kgs
Weight:                            9.7/13kgs
Package Size:                   53x43x32cm
Automatic Grade:             Manual
Warranty:                       One year

Feature
This simple UV Exposure Unit Kit is especially designed for personal usage in screen printing; it is easy operated and with very low cost, which will also be the best choice for new hand to start screen printing busines. 
Instruction
1. The exposure unit is exposed of two 26W UV tubes, which can be swivel adjusted while exposing.
2.The holders can be easily installed because of the two-way clamps; besides, it can be adjusted in different heights and angles to satisfy different exposing demands.
3.The equipped countdown timer makes it easier for exposing time controlling.
4.The equipped black rubber subplate can reduce the ultraviolet reflection during exposing, which can guarantee a better exposure effect.
5.The equipped glass can guarantee a closer contact between the transparency film and the screen plate; besides, because of the glass sucker, glass taking is safer and much more convenient.
6.The equipped transformer can change the 110V into 220V, which makes it much more suitable for Canada & US customer.
7.The equipped universal switch plug can guarantee the two exposure unit working simultaneously.
8.Equipped with package list and operation video; besides, we can also supply other technical supports.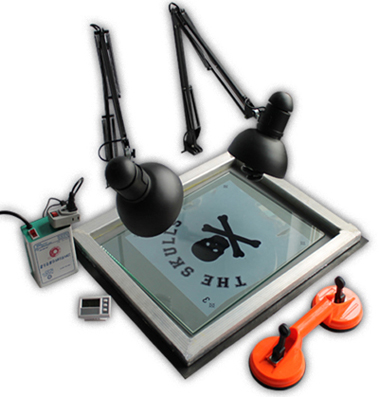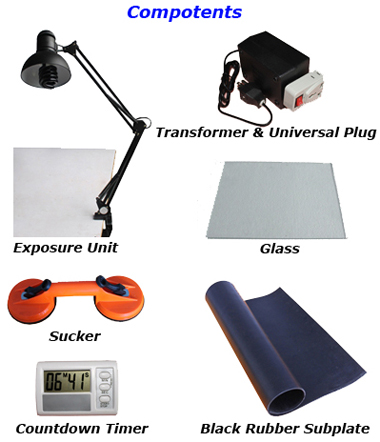 Related Product
Hot Product