Products Catagories
News & Events
Contact Information
Products
Large UV LED Exposure Machine

Model: EASY-LEDUV120180
Description:
Specification
1. Max Exposing Area : 1200 x 1800mm
2. Max frame outer size:1400*2000mm
3. Power:   110V/ 220V  50HZ/60Hz    4Kw
3. Wavelength: 395nm
4. Weight : 300kg
This is Straight light - LED UV exposing machine
Advantage
1) Straight-light's sophisticated digital touchscreen controller automates screen exposures. All the operator needs to do is select the appropriate exposure preset and press START. The entire process, including vacuum, exposure, and shutdown, takes place without further operator involvement. allows the operator to walk away after initiating the process because we ensures that exposures will not begin until proper vacuum has been reached—and vacuum and exposure LEDs will shut off automatically upon completion of exposure. Vacuum and exposure times can be set between 0.1 and 999.9 seconds. And ours Job Recall™ speeds processing and increases productivity by enabling operators to save and recall up to 24 vacuum and exposure profiles—and identify each with a unique name or description.
2) Quickly expose direct, capillary, and indirect emulsions. They work particularly fast on photopolymer emulsions, which can be exposed in as little as three to five seconds (results will vary based on emulsion type and thickness).  UV LED screen exposure units can be located in areas housing unexposed screens because the ultraviolet light source and vacuum frame are enclosed, and the screen exposure lamp can't be turned on while the blanket frame is open.  also incorporate several strips of yellow, non-exposing LED inspection lights for convenient setup.
If you're looking for blazingly fast quality exposures at an unbelievably affordable price, you'll find it all in here !
3) UV LED Exposure Machine can exposure high density mesh quickly .
Exposure 220T density mesh with several second is no problem .
We can make  any UV LED Exposure Machine for you !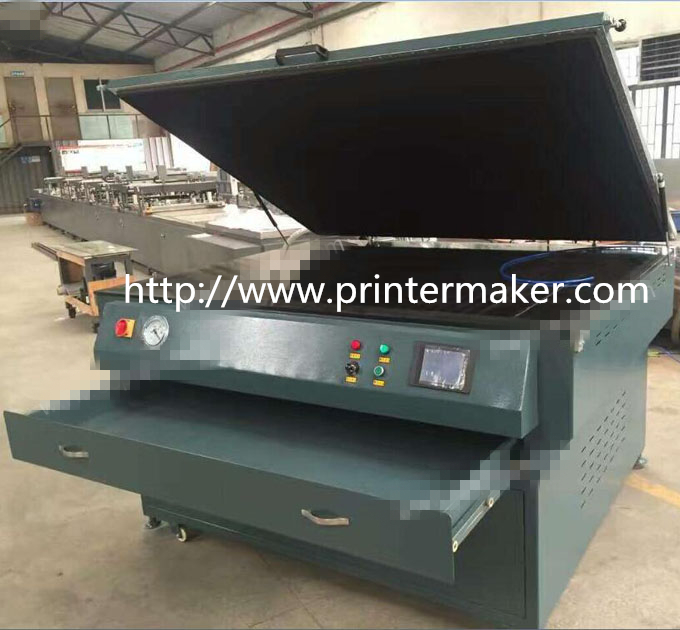 Related Product
Hot Product