Products Catagories
News & Events
Contact Information
Products
Economical Pneumatic Hot Stamping Machine

Model: EASY-JD300
Price: USD1900
Description:
Economical Pneumatic Hot Stamping Machine

Model:EASY-JD300
Pneumatic Hot Stamping Machine,
Power Supply::220V 50HZ
Power Rate::2500W
Hot stamping Area:400×300MM
Hot stamping Speed::10-30PCS/Min
Hot stamping Pressure: 0.8T
Temperature Range: 1-300℃
Machine Size:850×600×1500MM
Net Weight:300KG

Description:
EASY-JD180/210/300/350/JDH300/JDH350 automatic stamping machine is attractive in its appearance. You could enjoy superior performance. It is with unique design and is adopted with high-precision electronic time controller controls, stainless steel heating plate (heating tube) , with rapid heating, one time bronzing finish. There are both automatic, jogging functions. The machine stroke can be adjusted up and down height to accommodate different height of items for bronzing process.

Application:
It is widely used in surface hot stamping and embossing decoration on those leather, electrical devices, plastic sheet, cosmetics boxes, jewelry supplies and cases, advanced toys etc.
 M

odel

 

EASY-JD180

 EASY-JD210

 EASY-JD300

 EASY-JD350

 EASY-JDH300

EASY-JDH350

 

Hot Stamping Area

 180*140mm

 260*210mm

 400*300mm

 500*350mm

 400*300mm

 500*350

 Pressure Source

 Pneumatic

 Pneumatic

 Pneumatic

 Pneumatic

 Hydraulic

 Hydraulic

 Hot Stamping Speed

 10-30pcs/min

 10-30pcs/min

 

10-30pcs/min

 10-30pcs/min

 10-30pcs/min

 10-30pcs/min

 Hot Stamping Pressure

 0.4T

 0.6T

 

0.8T

 1T

 5T

 15T

 Temperature Range

 1-300C

 1-300C

 

1-300C

 1-300C

 1-300C

 1-300C

 

Power Rate

 1000W

 1500W

 

2500W

 3000W

 5000W

 10000W

 

Power Supply

 220/110V

 220/110V

 

220/110V

 220/110V

 220/110V

 220/110V

 

Machine Size(L*W*H)mm

 600*450*1200

 600*450*1200

 850*600*1500

 950*650*1550

 950*650*1550

 1050*750*1650

 Net Weight

 100KG

 150KG

 300KG

 400KG

 600KG

 800KG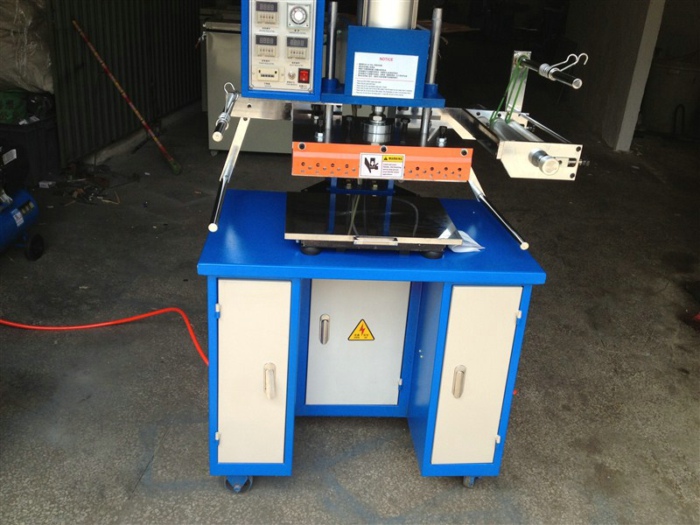 Related Product
Hot Product