Products Catagories
News & Events
Contact Information
Products
2 Color Ink Cup Pad Printing Machine

Model: M2-250T
Description:
2 Color Ink Cup Pad Printing Machine
Specifications:M2-250T
1.Max. plate size:100*250mm; 
2.Max. printing area:85*135mm; 
4.Max. printing speed: 1080pcs/hr; 
5.Printable colors:2
7.Stroke of table shuttle: 125mm. 
8.Machine Size:95*63*150mm 
9.Power Supply: 110/220V/60HZ/50HZ 1-PHASE 60W 

Advantages︰ 
1.Two-colour pad printer with shuttle ; 
2.Each function controlled by microprocessor ; 
3.Four-digit auto counter built-in; 
4.Coin aluminium structure ensure solidity and durablity; 
5.ink roller flooding for easy install/uninstall ; 
6.Independent pad up/down stroke and speed asjustment; 
7.Auto balanced doctor blade available for efficient ink scraping; 
8.Printing speed asjustable to fullfil various requirements; 
9."Inking twice, printing once" for better ink covering; 
10.Able to sweep forward/backward without lowering pad to avoid ink drying at intervals; 
11.One or two colours printable; 
12.Two-colour ink tray base adjustable separately for overprint adjustment; 
13.Drying with auto air blowing for easy colour registration; 
14. Equipped with SMC Cylinder and FESTO Pneumactic Parts 

Machine Fittings︰ 
1. Two plates, 
2. Two pads 
3. A tool box. 

Ship Date︰ By sea: 
Ship on aboard within 5 days after receive T/T . 

Testing︰ 
1. 110V or 220V power supply. 
2. 5-7 bar compress air. 
3. Etching plate 2 pcs. 
4. Fixture 1pcs. 
5. 5-10 pcs product samples. 

Application: 
This pad printer is featured by the higher working capacity. It is also suitable for those products with high printing size requirements. The ink tray and rubber pads could be changed for multi color's printing. Widely used for logo printing on surface such as electronic products, plastic shell, hardware products, stationary, gift set, artistic products, toys etc.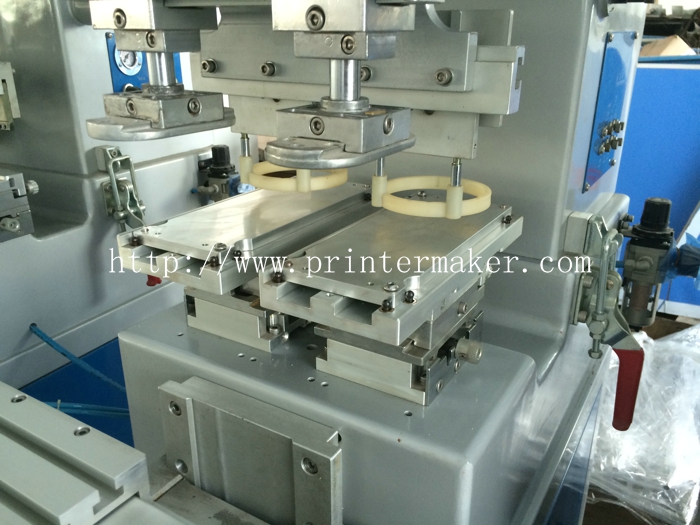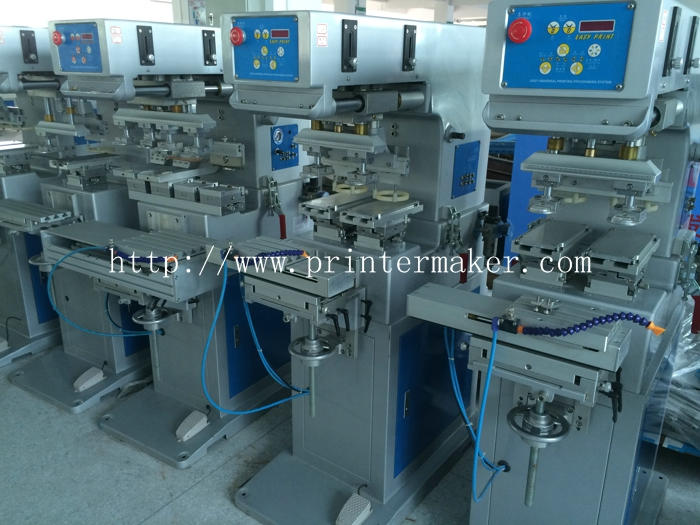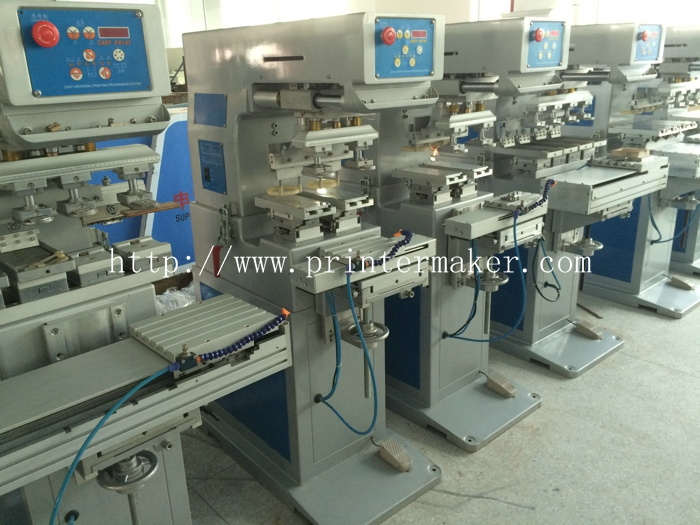 Related Product
Hot Product